GM Series Electric Fuel Level Gauge 5814-00406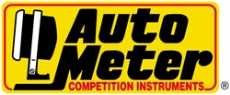 This product is a universal fit that is not specifically made for any given vehicle. Modifications may or may not be needed to use this product on your vehicle.
Product Description
One of the most necessary gauges in a dashboard, AutoMeter makes it easy by offering 5 different resistance range configuration to match your existing fuel sending unit. Available in 0-90 ohm (GM mid 60's to mid 90's), 0-30 ohm (early GM), 73-10 ohm (pre 90's Ford and Chrysler), 16-158 ohm (later model Fords) and 240-33 ohm (aftermarket senders such as the AutoMeter 3262). Our patented air core meter movement receives extra dampening to help combat the effects fuel slosh in non-baffled tanks.
Product Features
Traditional Incandescent Lighting Illuminates
Works w/Most 1965 To 1997 Chevrolet/GM Senders
12 And 16 Volt Compatible
Gauge Kit Incl. Bulb/Socket Assembly Red/Green Bulb Covers
Includes Mounting Hardware And Instructions For Installation
AutoMeters Race Proven Air-Core Electric Instruments
Product Specifications
Analog Or Digital: Analog
Bezel Color: Black
Bezel Style: Super Bezel
Block Adapter Included: No
Bulb Technology: Incandescent
Electric Or Mechanical: Electric
Face Color: White
Fuel Line Adapter Included: No
Gauge Adapter Included: No
Gauge Size: 2.625 in.
Gauge Size: 66.7mm
Gauge Type: Fuel Level
Hole Size: 66.7mm
Hole Size: 2.625 in.
Illuminated: Yes
Lens: Flat Clear
Lighting Color: White Incandescent
Lighting Type: Incandescent
Liquid Filled: No
Mounting Bracket Number: 3245
Movement Type: Electric Air-Core
Number Color: Black
Outer Bezel Diameter: 2.875 in.
Pointer Color: Fluorescent Red
Size: 2.625 in.
Sweep: Short
Voltage: 8-18 V
Warning: May contain chemicals known in the state of California to cause cancer, or birth defects or other reproductive harm. For more information, please visit www.p65warnings.ca.gov
Application Guide