Dyno-Cool Series 6000 Transmission Cooler 12903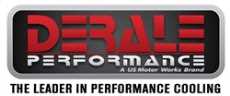 Product Description
This universal all-aluminum transmission cooler is perfect for today's highly-stressed mid to full-size car and mid-size truck automatic transmissions. Featuring embossed turbulators inserted into full 1/2" tubing to agitate fluid and louvered cooling fins, it extends transmission life by helping to prevent heat-related transmission failures while improving shift performance. This kit comes with a complete transmission cooler hardware kit to easily install onto vehicles with 5/16" transmission cooler lines.
Product Features
Prevents Heat Related Transmission Failures
Extends Life Of Transmission
Improves Transmission Performance
Embossed Turbulators Inserted In Each Tube Agitate Fluid
6 Pass Cooler Design
1/2 in. Aluminum Tubing Expanded Into Aluminum Cooling Fins
11/32 in. Hose Barb Inlets
Rated At 18500 GVW
Includes Complete Hardware Kit
Product Specifications
Gross Vehicle Weight: 18500 lbs.
Application Guide