Electric Oil Temperature Gauge Kit 13009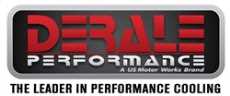 This product is a universal fit that is not specifically made for any given vehicle. Modifications may or may not be needed to use this product on your vehicle.
Product Description
Our Lighted Temperature Gauge kit helps monitor critical transmission or oil temperatures to avoid overheating vital fluids and helping to save hundreds to thousands of dollars of damage to transmission or engine components. A modern black-on-white face with 140°-300° F temperature range and a 2 1/16" diameter, this accurate gauge includes a mounting bracket, 1/8" NPT sensor, transmission pan adapter/drain plug allows in pan sensor mounting option.
Product Features
Transmission Or Engine Oil Temperature
2-1/16 in. Diameter Electric Gauge Includes Mounting Bracket
Includes 1/8 in. NPT Sensor
Includes Transmission Pan Adapter/Drain Plug To Mount Sensor
Product Specifications
Bezel Color: Black
Bezel Color: White
Face Color: White
Gauge Size: 2.0625 in.
Measurement: US
Temperature: 140-300° F
Application Guide