Series 9000 Transmission Cooler Kit 13613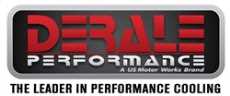 Product Description
Very popular with original equipment manufacturers for use on their towing applications, our Plate and Fin coolers is no exception, featuring strong furnace-brazed construction, 1 1/4" wide plates and embossed turbulators which maximize heat transfer while also minimizing pressure drop. This unit is perfect for light to medium duty use and occasional towing. It greatly extends transmission life by preventing heat-related transmission failures, and improve shifting performance. Built with 1/2" NPT female cooler ports and includes 1/2" NPT x 3/8" hose barb adapters. This kit comes with a complete transmission cooler hardware kit to easily install onto vehicles with 5/16" transmission cooler lines.
Product Features
Prevents Heat Related Transmission Failures
Extends Life Of Transmission
Improves Transmission Performance
Sturdy Furnace Brazed Aluminum Construction
13 Row Cooler Design
1-1/4 in. Turbulators Maximize Cooling
1/2 in. NPT Female Cooler Fittings
Includes 1/2 in. NPT x 3/8 in. Hose Barb Adapters
Rated At 20500 GVW
10 Ounces Fluid Capacity
Rated At 250 PSI Working Pressure/300 PSI Burst Strength
Product Specifications
Gross Vehicle Weight: 20500 lbs.
Application Guide