Electric Puller Fan 16110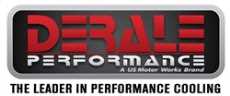 Product Description
A 10" Diameter version of our high performance H.O. Extreme series of electric fans, this powerful unit uses 10 thin, curved blades to provide a low profile (only 2 1/16" at widest point) for limited space applications. Using a sealed waterproof/dustproof motor that lasts up to 3 times longer than normal electric fan motors, this puller fan is designed to provide maximum performance at high static pressure loads. Mounting kit and installation instructions included.
Product Features
Eliminates Fuel And Horsepower Robbing Belt Driven Fans
10 Thin Curved Blades Allow Ultra Low Profile Design
Designed For Maximum Performance At High Static Pressure Loads
Long Lasting/Sealed IP68 Certified Waterproof And Dustproof Motor
802 CFM
Includes Mounting Kit And Illustrated Installation Instructions
Puller Only/Engine Side
Product Specifications
Diameter (in.): 10.000 in.
Application Guide