Radiator Pusher/Puller Fan 16214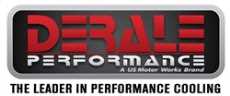 This product is a universal fit that is not specifically made for any given vehicle. Modifications may or may not be needed to use this product on your vehicle.
Product Description
A very popular primary cooling fan, this 14" High Output Single RAD fan is a self-shrouded, symmetrical design with four molded mounting points. Motivated by a 2-speed 265 watt Bosch motor driving 11 patented skewed blades, each includes a patented ratchet mounting system for a professional installation. Can be used as a pusher or puller fan by simply flipping brackets without changing direction of the unit. Moves up to 2100 CFM while drawing up to 22 amps.
Product Features
Mounts As Pusher Or Puller w/o Flipping Blade
State-Of-The-Art Symmetrical Design
High Output 265 Watt 2 Speed Motor
2100 CFM On High Speed/1500 CFM On Low Speed
Product Specifications
Diameter (in.): 14.000 in.
Type: OEM
Application Guide