Dyno-Cool Electric Fan And Mechanical Fan Controller Kit 16310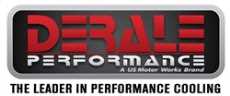 This product is a universal fit that is not specifically made for any given vehicle. Modifications may or may not be needed to use this product on your vehicle.
Product Description
Our 10" straight blade electric fan moves 500 CFM at 0 static pressure, drawing only 6.4 amps. Kit includes fan, mounting kit and mechanical fan controller with adjustable turn on temp between 32°F-240°F with turn off set at 10°F below turn on. Uses a capillary tube radiator hose probe design.
Product Features
Ultra Low Profile Design
Straight Fan Blades
500 CFM
Reversible Design/Can Be Used As Pusher Or Puller
Complete Fan Control Kit Includes 180 Degrees Thermostat
Complete Fan Control Kit Includes Relay Wire Harness
Includes All Mounting Hardware And Wire Connections
Application Guide