Electric Fan Controller 16788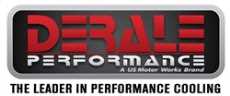 This product is a universal fit that is not specifically made for any given vehicle. Modifications may or may not be needed to use this product on your vehicle.
Product Description
Designed with quality and performance in mind, this High Amperage Dual Fan Controller breaks new ground in the industry of electric fan controllers. 100% USA made, a bulletproof design, 35 amp per fan amperage rating, adjustability from 150°-240°F, and a die cast bright finish aluminum cap, come together to make this dual fan controller stand out from the crowd. It's capable of controlling two separate 35 amp fans at different turn-on temperatures, with only a single probe. The first electric fan will be activated at the temperature set by the user followed by the second electric fan when the temperature becomes 10°F warmer. Each electric fan will turn off at 10°F below its turn-on temperature. Kit comes complete with wiring harness, fusible link, all necessary electrical connectors and push-in style radiator probe.
Product Features
Adjustable Turn-On Temperature From 150 To 240 Degrees Fahrenheit
Rated At Maximum 35 Amps Per Fan
Activates Fan 1 At Adjusted Temperature
Activates Fan 2 At 10 Degrees Fahrenheit Warmer Than Fan 1
10 Degrees Lower Turn-Off Temperature Than Turn-On Temperature
Includes AC Override Circuit
Push-In Radiator Probe
Application Guide