High Output Radiator Pusher Fan 16913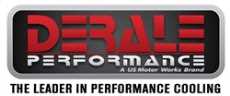 This product is a universal fit that is not specifically made for any given vehicle. Modifications may or may not be needed to use this product on your vehicle.
Product Description
A very popular primary cooling fan, this 14" High Output Single RAD fan is a self-shrouded, symmetrical design with four molded mounting points. Motivated by a 2-speed 265 watt Bosch motor driving 11 patented skewed blades, it can be used as a pusher with the supplied hardware kit. Fan can also be used as puller by combining with a custom built shroud. Moves up to 2100 CFM while drawing up to 22 amps.
Product Features
Mounts As Pusher/Grill Side
Can Be Used In Puller Application When Custom Shroud Is Used
State-Of-The-Art Symmetrical Design
High Output 265 Watt 2-Speed Motor
2100 CFM On High Speed/1500 CFM On Low Speed
Product Specifications
Diameter (in.): 14.000 in.
Type: OEM
Application Guide