Dyno-Cool Straight Blade Electric Fan 16916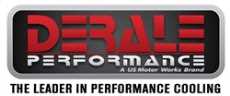 This product is a universal fit that is not specifically made for any given vehicle. Modifications may or may not be needed to use this product on your vehicle.
Product Description
A great auxiliary fan or primary cooling fan for small to intermediate cars and trucks, this 16" straight blade electric fan produces 1550 CFM at 0 static pressure, drawing only 15.5 amps. Included with each fan: mounting kit consisting of 4 plastic, through-radiator core rods and clips, 4 foam pads and 4 mounting feet.
Product Features
Ultra Low Profile Design
Straight Fan Blades
1550 CFM
Reversible Design/Can Be Used As Pusher Or Puller
Includes Nylon Mounting Hardware
Product Specifications
Diameter (in.): 16.000 in.
Type: OEM
Application Guide