Electric Fan Kit 20161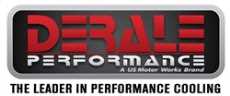 This product is a universal fit that is not specifically made for any given vehicle. Modifications may or may not be needed to use this product on your vehicle.
Product Description
This direct fit electric cooling fan assembly is the same as all of our products: the kit comes complete from the factory without the need to spend extra on necessities such as power steering reservoir brackets or coolant recovery tank brackets. Everything you MIGHT need is included, except of course the tools. Leave your drill in your toolbox, you won't need it here. We take a thermostatically-controlled high performance 16" skewed blade electric fan motivated by a 265 watt IP68 certified waterproof/dustproof motor and a laser-cut heavy duty aluminum shroud, along with all necessary brackets, fittings, relay harness, and mounting hardware to create the ultimate direct fit electric fan on the market. Fits ALL 4 and 6 cylinder Jeep Wrangler YJ's and TJ's.
Product Features
Replaces Fan Clutch/Fan Shroud And New Shroud Mounts
Complete Kit Includes Everything You Need For Installation
Includes Radiator Reservoir Remount Brackets
Aluminum Shroud
Includes Thermostatic Control
Includes A/C Override Circuit
Includes Auto Resetting Circuit Breaker
Easy To Follow Step-By-Step Instructions
Product Specifications
Diameter (in.): 16.000 in.
Type: OEM
Application Guide