Ultra Torque High Speed Starter 19450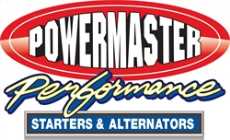 This product is a universal fit that is not specifically made for any given vehicle. Modifications may or may not be needed to use this product on your vehicle.
Product Description
Powermaster Ultra High Speed Starters Are Rated Up To 15:1 Compression and 200 Ft-Lbs of Cranking Torque. Ideal For Blown Alcohol, Magneto Equipped Or Engines That Require Higher Than Normal Cranking Speed. Perfect For 12/16 Volt Systems delivering 25% More Cranking Speed and Fewer Engine Kick Backs. All Powermaster Starters Come With Our Dyno Tested Proof Of Performance Guarantee. Made in USA.
Product Features
25 Percent More Cranking Speed For Faster Starts
Ideal for 12 or 16 Volt Systems
Perfect for any Engine Requiring Higher than Normal Cranking RPM
3 Position Rotation
Well Suited For Alcohol and Magneto Engines
Individually Dyno Tested with Proof of Performance Guarantee
Application Guide